10 July 2009. My dad and I backpack into the Kaiser Wilderness near Huntington Lake to reach the idyllic solitude of Nellie Lake.
by Robert Perry
---
After retrieving our wilderness permit and leaving the ranger station just outside of Prather, it took us about 45 minutes to reach Huntington Lake, where we parked at the beginning of the Kaiser Wilderness Trail. My dad and I had never taken this trail before, and weren't sure what to expect. I hoped that we would see a bear and some deer, but we didn't. However, we did enounter on our hike blue jays, chipmunks, gray squirrels, and one yellow-bellied marmot. The trees never disappoint. The smell of the lodgepole and redwood pine forests of the Sierras is my favorite smell in the world; add the scent of campfire and I'm transported, as Dorothy put it, to a place where "there isn't any trouble."
Before arriving to our campsite at Nellie Lake, I started getting that light-headed nausea and chills that I seem to always get at high altitudes. I have yet to find a solution or prevention for altitude sickness, but sitting for 20 minutes and eating half my bag of trail mix seemed to help. The last bit of the hike was uphill, and with my energy level zapped, I was pretty happy to see a very green, cool body of water through the trees. Nellie Lake was the tranquil, quiet place I had been yearning to experience again since moving to the city.
No one else was there. We had this beautiful lake completely to ourselves. We found a spot for our tent and got that up in about five minutes. We heated up Dinty Moore stew, which neither my dad nor I recommend for hiking: it's too heavy to carry and it tastes terrible. The tuna (sans-mayonnaise) sandwiches were better. When the sun set, we built a fire. It was incredibly humbling just to sit warming by the fire under clear, bright stars and majestic pines, listening to nothing but the fire crackling, the lake frogs, and the girgling of a small creek behind us.
This trip was the first that my dad and I have taken together in a very long time. It was initially my dad's love of nature and adventure (and possibly all those John Denver albums we listened to in the '70s) that has inspired the same in me. I noticed at Father's Day this year that many of my friends told me that their fathers were no longer living. It was evident that this trip was important for both of us, and I am so glad we made it to the top of that mountain together.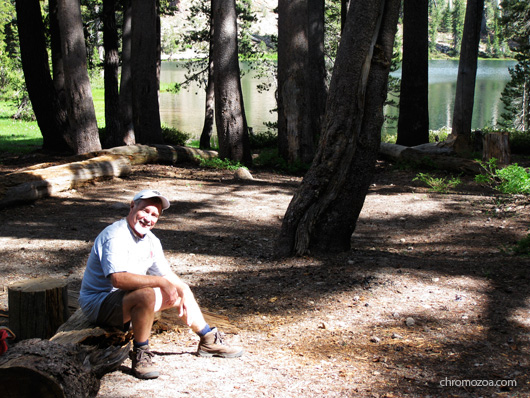 My dad, Jim Perry, after reaching the campsite at Nellie Lake.
---
©2009 Chromozoa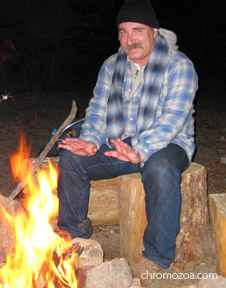 Photo source: Jim Perry
How to start a campfire when you don't have lighter fluid: Off mosquito spray makes a most efficient blow torch when held about two feet from a lit match. My dad said he thought "Survivor Man" had already done this... but if not, my dad gets the credit.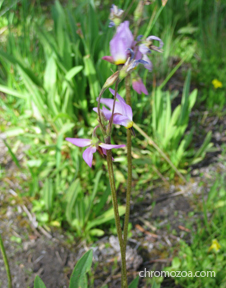 Photo source: Jim Perry
---