5 September 2009. Neither a cruisy bar nor a church potluck, Twitter's a social network for lovers of the precise and concise.
by Robert Perry
---
About a year ago, I established a Twitter account, just because Alex Albecht and Kevin Rose mentioned it on their podcast show, Diggnation. At the time, I had no idea whether I'd use it, or even why I'd use it. And I must say, there was a three-month period where I did nothing with the account. However, once you acquire about 50 to 100 followers while following 50 to 100 celebrity or journalist tweeters, it becomes very informative and fun.
You know that status bar on Facebook that allows you to tell your friends What's on your mind? Simply stated, that feature on Facebook is all Twitter is. However, Twitter is a social networking system that is different from Facebook in that it you are updating your "status" in a much more public forum and you, and everybody else, are forced to get to the point with the maximum number of characters allowed being 140. Facebook friends are people you know; Twitter followers are mostly people you do not know but who are interested in the kind of information that you post, whether that be posts about your certain hobby, beliefs, social/political causes or simply, your fabulous life. Twitter is often used by journalists, celebrities, businesses and bloggers to reach out to interested readers, and find new readers. Because Twitter restricts posts to 140 characters or less, a short teaser message is often followed by a short link to that story or photo; you can click on the link if you are interested. When reading tweets from the people I follow, I appreciate the ability to move from post to post quickly because everyone is forced to be concise and precise, like news headlines. If I'm not interested in the post, I move on to the next having lost only about three or four seconds of my life.
While using Twitter, I often follow certain topics that I am interested in by using hashtags "#". A hashtag is a pound sign followed by a topic (i.e., #graphics, #sanfrancisco, #michaeljackson). Clicking on a subject hashtag takes you to a list of all mentions, by any tweeter in the world, of that topic with the most recent post at the top. It's a great way to follow a developing news story. Consequently, I often know about a celebrity death before any of my friends. For awhile there, it seemed, I was becoming the regretful messenger of death among my friends with the news of Farrah and Michael—and then followed the odd Billy Mays death.
Twitter is an excellent tool for anyone needing to establish a presence or personality on the Internet, whether that be for on online business, like me, or just as a hobby that can connect you to a world of information.
---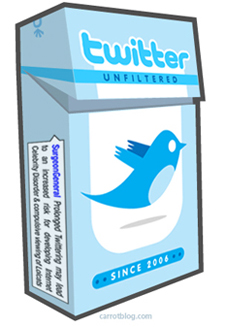 Photo source: carrotcreative, flickr.com
Twitter is addictive and may cause loss of sleep and time.
---